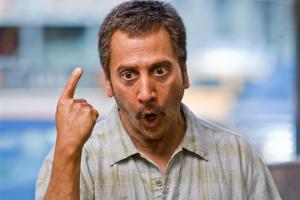 You Don't Mess With The Zohan was released in Ireland today, so I escaped the damp weather by seeking refuge this evening in my local cinema.
I wasn't quite sure what to expect from Sandler. I knew it was a comedy about an Israeli commando who wants to be a hairdresser.
What I didn't know, or expect, was that I would find myself literally laughing out loud. At some points I was almost crying!
Zohan is a farce. It pokes fun at Israelis, Palestinians, Americans and just about everyone else.
It takes political incorrectness to a whole new level. The stereotyping alone makes it worth going to see, as it is sheer genius.
The script, while a bit weak in parts, is hilarious. Some of the set pieces made me think of Monty Python in their heyday.
So what about the cast?
Sandler entertains and has great presence, while Emmanuelle Chriqui is simply stunning (she can act too!). Schneider does Schneider without really extending himself, but he doesn't need to.
You may remember John Turturro from Mr Deeds, where he played the "super sneaky" butler, or as one of the agents in Transformers. This time round he plays Zohan's nemesis, but of course there is a funny twist..
If you want literally a good laugh, then don't miss it. I was having a pretty glum evening and it really cheered me up.
Related Posts: