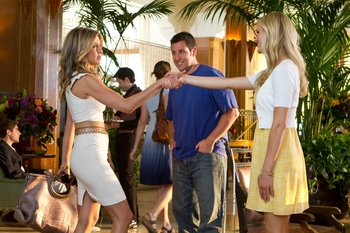 Adam Sandler's comedies can be either incredibly funny or quite painful to watch. When the cast and the script work well, however the results are practically comic genius.
In the case of Just Go With It I found myself laughing out loud. Between Sandler and the other cast's antics and a quite clever script (in parts) you will be entertained.
Sandler plays a plastic surgeon who has been his "marriage" to seduce women for 20 years. When he finally meets a woman that he could actually have a real relationship with (Brooklyn Decker) he gets caught up in his own web of lies. Next thing he knows he's managed to gain a wife (Jennifer Aniston) as well as two kids.
It's laugh out loud funny in parts, though predictable.
Related Posts: